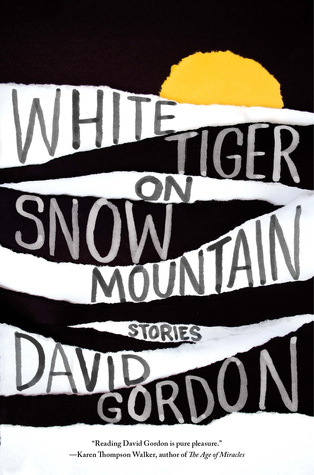 ☆ ☆ ☆ ☆ ☆ // did not finish
• White Tiger On Snow Mountain: Stories // David Gordon
• Published October 28th 2014 by New Harvest (Houghton Mifflin Harcourt)

In these funny, surprising, and touching stories, Gordon gets at the big stuff—art and religion, literature and madness, the supernatural, and the dark fringes of sexuality—in his own unique style, described by novelist Rivka Galchen as "Dashiell Hammett divided by Don DeLillo, to the power of Dostoyevsky—yet still pure David Gordon."

Gordon's creations include ex-gangsters and terrifying writing coaches, Internet girlfriends and bogus memoirists, Chinatown ghosts, and vampires of Queens. "The Amateur" features a cafe encounter with a terrible artist who carries a mind-blowing secret. In the long, beautifully brutal title story, a man numbed by life finds himself flirting with and mourning lost souls in the purgatory of sex chatrooms. The result is both unflinching and hilarious, heartbreaking and life-affirming.
Why did I read this book?
The blurb was (is!) fascinating, and it made the book sound like something up my alley. It misled me, but that's not what this review's about.
The other day, I was telling my
Friends Who Read
that 2015 is going to be the year I stop finishing books I don't love. After all, the world is full of good books, and I'm a grad student with limited free time - it doesn't make much sense to spend it on things that don't lift my spirits. And this book didn't lift my spirits, so I decided to ditch my new year's resolution and just... start earlier?
White Tiger On Snow Mountain
is a collection of... let's call them personal short stories, so personal that I often found myself wondering if the author wasn't writing about himself in every single one of them. Writers, Jewish writers, Jewish writers in love (or lust, that too) with younger women, boys who would undoubtedly grow into Jewish writers in love or lust with younger women... the protagonists didn't offer much variety, and halfway through the book I told myself it'd be okay to stop.
Did I mention one of the protagonists is
actually
named David Gordon? (he used to write porn, now he doesn't anymore, and it makes him sad that none of the women he sleeps with want to read his novel-in-progress)
In the end, the stories felt incredibly repetitive, the overall tone was ManPain with a side of misogyny, and not even Gordon's remarkable use of language (the writing is beautiful, no doubt about it) could improve the collection's worth in my eyes. I'm sorry I couldn't finish, but the more I read the less I liked.
There is one sole exception, and that was a story named
We Happy Few
. It starts normally enough for the collection, with a middle-aged English teacher who, intent on sending a nude photo to a 20-year-old student, ends up sending it to the entire class. He is fired, and then hired right away by a mysterious stranger to play sober companion to "a terrific young writer". Chaos ensues, but our protagonist saves the day with his bottled up literary prowess, and all's well that ends well. It doesn't sound particularly alluring on this screen, I know, but the story stuck with me, and I wanted to make sure you knew - if you really must pick this up, I recommend that you start with that story, and then find your way from there.
Seeing as I didn't finish, there will be no star ratings. Over and out!
NOTE:
This book was provided by the publisher, through NetGalley, in exchange for an honest review.